Today I signed up with ToTs 100 and they are hosting a little competition that I figure it's worth taking part in, so this is my entry post.
If money were no object and I could design the garden of my dreams, right now, as this point in my life,
I wouldn't worry about landscaping or a perfect lawn! I just want a garden that is
predominantly a fun, safe space for my children to hang-out and play:
somewhere they don't have to worry about what they do, or the mess they make!
For the first time really, we live in a home with a garden big enough to do plenty with, and adjacent we have a field (of ferns for half the year) that the children are allowed to play in freely. There is a LOT we could do with this space...if money were no object!
I am very grateful that we already have a few things that make our garden fun and usable, but they are all second-hand!
We have a second-hand, well played on, metal TP climbing frame. It's still perfectly serviceable & we've sort of combined it with a mini ELC climbing frame to extend the fun a little. At one end are two slides ~ the one that's part of TP set, and another that is free-standing, but tucks up to the frame nicely and creates a dual-slide effect. The kids enjoy racing each other down :D
We have a second-hand, 10ft trampoline (after our first one split in the middle when Daddy jumped on it one day!!). It's OK, but the safety net doesn't do up and that worries a little bit. It lives on tarmac, in a gap between our grass and the garages. I like it there because it doesn't kill any grass or need moving for mowing, but it does take up a useful space. However, I can't put it on the grass even if I wanted too, because our garden is too sloped and uneven.
We have a second-hand playhouse, which we were kindly given 2 summers ago. It's great. It's in good condition actually and it's green, so it blends well with the garden, but I have dreams for that corner...
So IF I could have anything and DO anything with our garden, what would I do?...
There are things the children would like...
They have asked for a swingset forever! Paul has always been reluctant, but as the grass here is mostly clover and seems to be amazingly resilient, perhaps I could persuade him with these...
I might even get one of these too, to attach to the tree in the field next to our garden
I know the kids would be THRILLED with all of that!!
I'm also thinking about my bigger boys & my boys getting bigger! We had a football goal WAY back in our very first house, when Bugs was not even 5! It got tangled and mangled and didn't make it as far as even house number 3 - sadly, so it's LONG overdue a replacement. I'm looking at these ...
...thinking I love how they can just be lifted out of the ground for mowing (or other garden activities), the net is not going to get tangled and they are 6ft tall ~ so still plenty big enough for the teenagers and Dad to have a kick around! Two of these, that could be moved aside for other purposes, but could live in the garden full-time, would be brilliant!
Next I would LOVE to replace our current trampoline with a sunken one. Admittedly this would be a permanent fixture, but ultimately it resolve my worries over safety nets and would be suitable for all the children to just use whenever they wish ~ from the oldest to the youngest. So, one of these then...
I'd need to tuck it away in a corner (so as to have room for the games of football!), but our sloped garden wouldn't matter so much with this design, as we would simply sink it in flat and it would be fine!
With all these wonderful big toys, I'm wondering about the youngest children...
We have a little sand and water table, that we've had for few years now, that's looking tired and old. I'd LOVE to have a big sit-in sand pit for Chip. I'm really liking the look of this one...
partly because I like the idea of turning into a garden-plot for him when he out-grows sand play. He could grow whatever he liked in there and it would just look 'right' in the garden.
Seating wise, with a family of ten, we don't really have enough, so to solve that we have just acquired a lovely-but-needs-a-bit-of-work table and chairs set, and we have a worn out old picnic table for the children. It would be lovely for the small children to have something more 'them' sized, and this looks lovely...
In the corner of the garden, I'd like to replace our green playhouse/shed with one of these, just because I think the children would love it and they could move things out there that currently live in the house (dolls, kitchen...).
On top of all of this I'd like a big framed paddling pool ...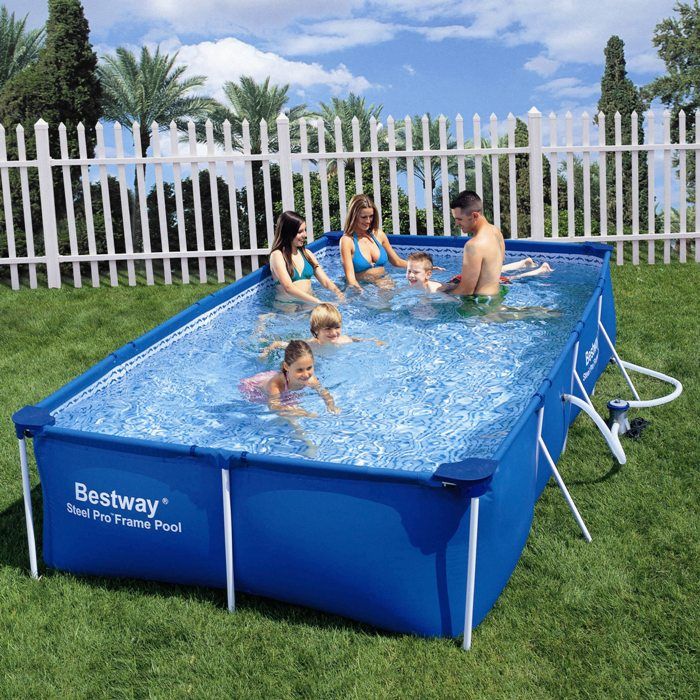 and maybe some go-karts for the team to hare down the hill on ...
And lastly, I'd like to add a little something for us grown-ups! ... I'd like a summer house, so Paul & I can sit comfortably and enjoy the summer in the garden, whilst we read or watch the children play, so I'm thinking, on that hard-standing (where the trampoline is atm), THIS would be perfect...
Of course, IF I won the competition I couldn't have ALL of this, but one can dream!
And here's a little picture to help you visualise the whole cha-bang (not drawn to scale or with any artistic flare)!!
"This blog post is an entry into the Tots100/Activity Toys Direct garden makeover competition"